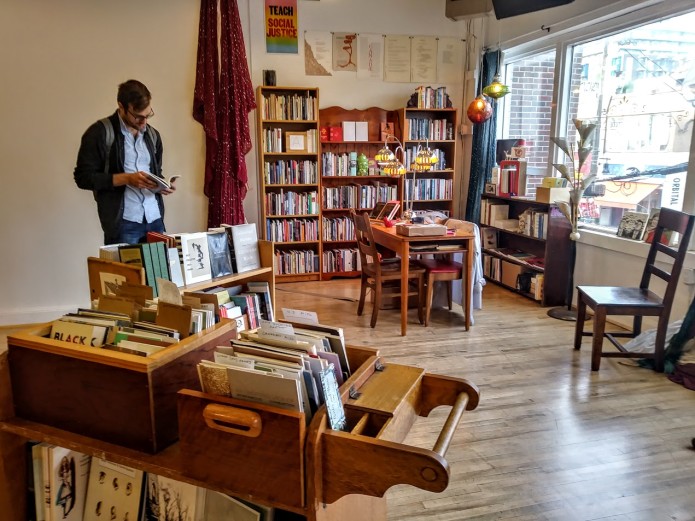 I want to tell you a story, one that can best be told in pictures, and by visiting the shop, and I will do my all to convey it here.
We've just celebrated our 1st Anniversary in our glorious new space, still centred in the most vibrant area of the city, Kensington Market, and the turn around—from two-week notice to meeting to finding to moving to landing to reopening—happened in just ten days.
Not just any space. One of the most ideal spaces one could possibly imagine for the next stage 'to champion poets and poetry' at  knife | fork | book.
I know. It was completely unanticipated, unexpected, crazy-ass from the get-go. And, here we are. A whirlwind and a flourish.
How did this happen? How did any of this happen?
The indefatigable vision and support of artists in community. The gutsy ones who say, "Yes"  and do. The ingenious ones who ask, "What would make this possible?" Those whose undeniable passion forge a path, make it happen.
I have the grand good fortune to be surrounded by such people. That is the beauty of neighbourhoods, and the dynamic artists and movers who not only dwell here but make pockets of this city abundant with possibilities.
Such people in Kensington didn't want to see us go.
Artist, Leo Scopacasa (with Joseph Reid at their brilliant Orbital Arts Gallery, now celebrating 20 years in Kensington) asks, "Do you know Audra?," as in Audra Simmons, artist/dancer and extraordinary force behind Lavish Dance Company and The Dark Side Studio just across the street.
"There's a dance studio above Bunners?"
We'd never met. Hadn't heard of each other, didn't even know the other existed. I called, walked into her beauteous space. Found out we were both Taureans doing our own thing, found deep admiration and delight for what each other is [wo]manifesting in the daily lives of market and the world. And, that week, our lives enlarged. Changed.
Thanks for saying yes, Audra. Such a warm welcome.
What's even crazier is it appeared practically seamless. By the time my loving older brother Rick (not associated in any way with Rick's Cafe) drove up from Ohio, James, David, and I had the shelving and books moved across the street and he made certain all was installed properly, (myself, being 'set designer'). We moved our Thursday Night Poets Series, to KFB Fridays, with virtually no interruption (Joseph and Leo offered their accessible gallery for a few off-site events across the street). And since our move, business has increased, poetry is moving, and our vibrant reading/event schedule is in full swing.
Like yourselves. You and your choice to deliberately buck the system, come to a physical space you value, to meet and hear poets and poetry, to read and engage here yourself, to give of your time, and purchase books you discovered by ear, and hand, and touch. You are deeply welcome/d.
"So, what's the funding campaign for?"
The short answer is, our expenses have increased and this will give us a bit of a foothold moving forward. And, there's more. Much more.
As many of you have already discovered, while we are first and foremost Toronto's (indeed Canada's) only poetry-only bookshop, in just a short year (yes, only a year), knife | fork | book is a place for poetry and poets (and publishers) to come, to meet, to read, to promote/sell, to hang out, a residence of sorts. A home.
Just look at the photos here and on our websites. They tell the true story. KFB is "Where poets meet. Where poetry moves."
And check out these interviews. The heart is in place.
And, we're a business, in business. Commerce and currency enable this to happen. For over a year, our space, promotion, readings and events have all been open to the public, free. We are not grant-funded. I am neither retired, nor independently wealthy. And book sales cover but a fraction of our operating costs (she lives very simply).
These final two weeks of our funder, we're seeking to double what we currently have. This will allow for us to build our business to become more sustainable, increase our web presence, launch a new online shop with exclusive KFB merchandise, keep our inventory fresh with new international poets and titles you seek, create an expense fund for visiting poets, and perhaps be able to do some hiring. Basics to move forward.
Mostly, we wish to continue to stand with the poets and artists who insist on being here, doing the work. To those ends, join us. And thank you.
See you at the shop.
Yours, I remain,
Kirby
Poet Warrior Fairy Princess,  knife | fork | book